Here's an image from the creator from Burdastyle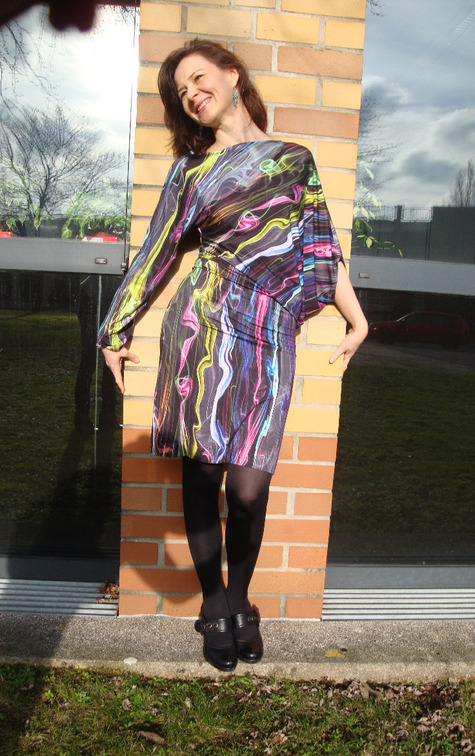 After seeing Ann's review on PatternReview for this dress I fell in love. I downloaded it at about 8 pm last night, taped and cut out the pattern and had two muslin's done by 9 ish. There are only two sizes, I cut out the pattern for the 38-40 size and I'm more of a 42-44 depending on the pattern and fabric. So, I added an inch to the side seam which is on the fold.
Picture of the pattern piece:
For Muslin #1 I only added an inch at the fold, so two inches total all the way up. I figured I could use it in the bust as well. But it wasn't enough, no pictures, they are indecent!
For Muslin #2 I added two inches at the fold, so four inches total. And I tapered it out under the arm to about a half an inch to the hem for almost another inch. I defintely want room, no hoochie mama'ness. It was almost enough room but now the dress hangs funny.
So what I'm thinking is I need to add in the added width in a couple places. Like an inch at the side seam, cut the pattern and add an inch in the middle somewhere, and then add to the other side seam.
Now that I'm looking at the pattern closer, I'm wondering if I shouldn't do an FBA of sorts. Cut and rotate at the armcyce of the right sleeve/shoulder. There's no rule that the fold has to be on a fold, it's just to make it easier. I could cut and rotate then add a seam allowance and stitch the other side seam as well. There is a lot of "ease" for the bust but mine is larger than most and I think it's making the neck pull funny.
The fabric for the muslin I'm using is super nasty. Super cheapy poly knit and is very clingy. I want to make this out of a nicer rayon knit that I think will lay nicer and not be clingy.
I'm not quite sure why I'm bound and determined to make this fit...lol. Any suggestions?