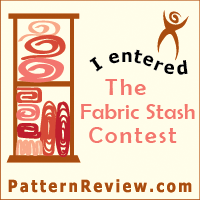 Well, I entered! I'm not sure how much I will sew up but I will try. I'm out of town one weekend and another weekend is my son's first gymnastic meet. I think I will be saving all my hand sewing for that weekend.
I do have two pairs of PJ pants for him completed.
Up next is a bias cut plaid flannel skirt I've had cut out for awhile. Then I think is a pencil skirt out of this fun fabric I've had for quite awhile.
I was doing a Fabric Fast as well and doing pretty well...for me at least. I bought one piece of fabric, some special Milly Peacock fabric from Gorgeous Fabrics that I could not pass up! I bought some back in November from FabricMart and while I had been able to control myself in December, I fell off the wagon today! FabricMart had a some nice things on sale, then threw in a 10% off coupon on Facebook, then there was the free mystery bundle for a $75 purchase...damn, well I caved!
Oh well!
I was going through my stash and pulling out fabrics I would never make anything wearable out of for me. I started thinking about fun play/dress up clothes for kids. My good friend's daughter loves dress up so I think I'm going to make some things for her out of it. Maybe some fun twirly skirts, a cape, and maybe a dress.