"Are you actually going to wear those in public?"
asked my son. "Why yes," I replied. "In fact, I am wearing them to work tomorrow!"
I was feeling like a lazy sewer for awhile and I decided I needed something a tad more involved to sew. I have been loving the new fringe trend of printed pants. I've always been a sucker for printed pants ever since I was a little girl. Just ask my mom about my 7 Up pants! My favorite pair of pants had 7 Up logos printed all over them. Even in high school I had some crazy pants. My favorite were pink and purple floral pants from Benetton.
You Look Fab wrote a Blog Post about them and I obviously vote YAY on them.
You Look Fab
This fabric was an original purchase about three years or so ago from my local indie...Fabric Gallery. I thought for sure it would be a coat or jacket but it's been screaming for me to make it into pants for the last couple of months. I guess it would be considered a brocade. It frayed horrible when I sewed it but other than that it was great.
I've been doing my best to utilize stash patterns and fabric. I really wanted to order the new Colette cigarette pants but I was good. I found this pattern and always have great luck with Burda pants and these were no exception.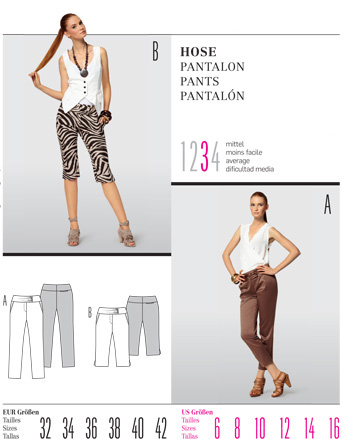 I wasn't sure about the added bulk of the gathering on the waistband so I left it off. I'm glad I did. The reviews for the pattern are less than stellar but that's mostly due to Burda's crappy instructions which is normal in my opinion. I didn't even use them at all. As usual, I followed Sandra Betzina's Flyfront Zipper Tutoral...it never fails! I left off the little pocket in the back, just a waist of time I think. If you don't need instructions or can find them elsewhere, these are wonderfully drafted pants. They aren't so skinny that I look like an apple on a stick. They are more straight legged. I shortened them a smidge so they hit right at my ankle. I think they are meant to be a bit shorter though.
I really like them with this shirt.
Below are pictures of my practice pair. These are a cotton blend I think. There was three yards in a FabricMart mystery bundle. It is wonderful fabric. I have enough left to make a straight skirt at a later date. I wore them today so they are wrinkled. After wearing them, I think they might have some wool in them.
This pair I cut out a size 42 and only took 3/8 inch seams on the side seams. I am usually a large 42 or a small 44...kinda in between. This pattern only went up to 42. I found them to be pretty generous this way and did a straight 42 for the crazy pants. These are really comfortable though and I will get a ton of wear out of them. I wore them all day today running errands. A great alternative to jeans which I am liking less and less as I get older.